Skidder Overturns when Clutch Linkage Breaks
Hazard Alert
Skidder Overturns in Ditch when Clutch Linkage Breaks
A skidder operator was trying to drive his machine across a ditch at a slight angle. The machine started to lean to one side and the front wheel on the high side started to climb a stump, with the result that the machine started to lean even more. The operator then tried to stop the skidder by pushing in the clutch. As he did this, however, the clutch linkage, which had previously been welded,broke. The clutch did not disengage, with the result that the machine continued to climb the stump until it tipped over and fell on its side. The operator was thrown from his seat and landed against the cab wall with his leg out the door. He suffered a broken leg when the machine snapped his leg against a rock on the ground.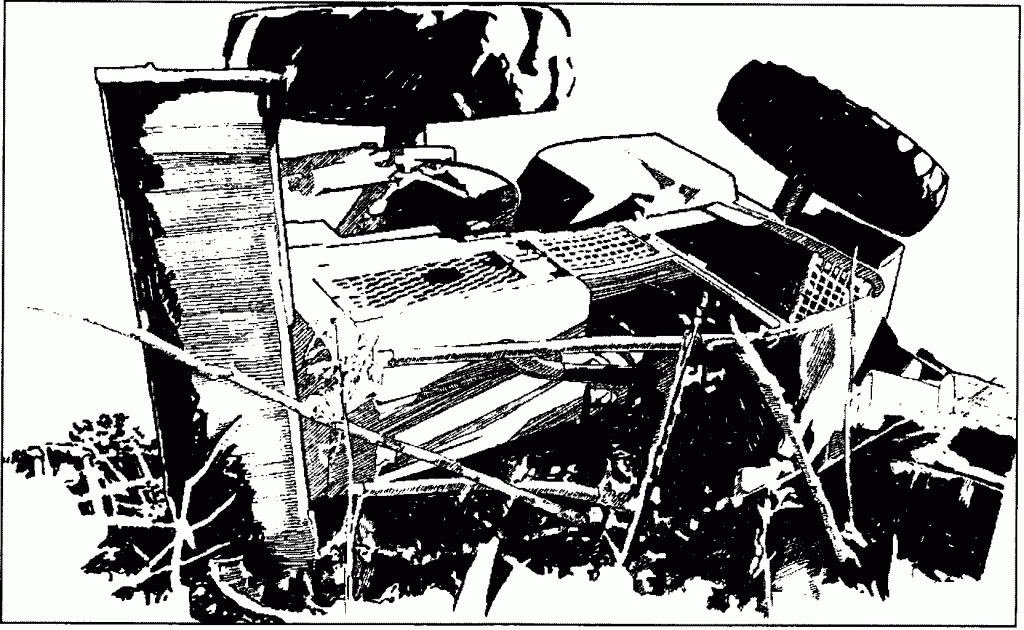 Recommendations to Prevent a Recurrence
Repairs to critical parts of powered equipment such as the clutch, brakes, steering and all safety equipment should be made by appropriately qualified mechanics.
Skidder operators should try to travel straight up or straight down any hills or slopes they have to cross. Operating on any significant "side hill" angle greatly increases the chance of tipping over. And they should especially avoid running over obstacles like rocks or stumps when forced to travel on a side hill.
Supervisors should monitor the performance of both maintenance mechanics and skidder operators and provide additional training when required.